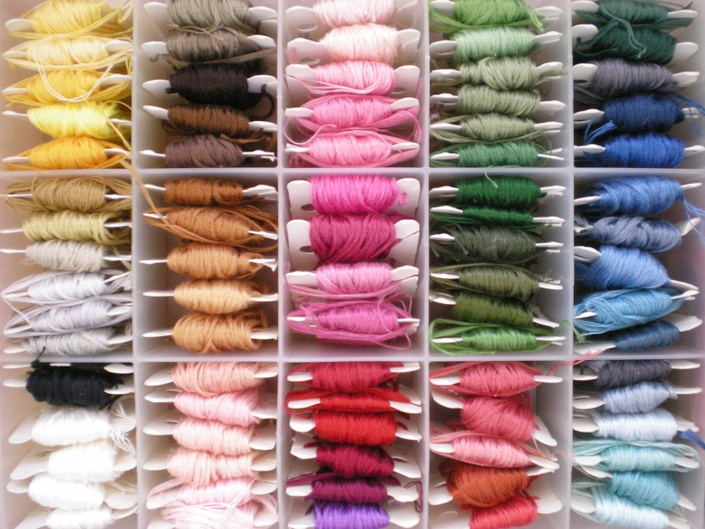 The Primers: LEARN ABOUT SEWING - Beginner Sewing and The Tools of The Trade
Learn about the tools of the trade and basic stitches in Sewing
Watch Promo
Are you curious about sewing?
Have you ever looked at a garment or pillow and wished you could make something that suited YOUR style and taste, rather than buy what was being offered in the store?
We all have a need to express our individuality, whether it's through the clothing we wear, the way we choose to adorn our homes or in the need for creative relaxation…
Perhaps the idea of learning to sew felt like it would be too difficult?
If the thought of learning to sew has felt like a challenge, then allow me to demystify the world of sewing for you, so YOU can begin to express your unique style through sewing!
* * * * * * * * *
I am Monica The Creative Beast and I bring my extensive experience in professional sewing, for places such as the LA Opera, to guide YOU through the world of sewing and the tools of the trade.
This primer course is about learning the basics of Sewing with an overview of all the tools used for Sewing.
Learning about the various tools of sewing, how they are used and what they are used for, will provide a strong foundation to help you feel inspired to learn more and take steps toward expressing yourself through sewing.
Creating your own clothing or home decor ideas will bring great satisfaction, and making gifts for family and friends will feel special for each recipient receiving something tailor-made for them.
* * * * * * * * *
A few of the things you will learn in this self-study course:
Types of needles and what they are used for
Types of threads for sewing or embroidery
A look at hand sewing and some of its history
A general overview about sewing machines
This course provides a video demonstration of the most basic of all stitches, the Running Stitch, with a bonus lesson demonstrating the Whip Stitch.
Each lesson will provide a vocabulary of terminology used in sewing, which helps to demystify the world of sewing.
You will also find a gallery of projects that utilize hand sewing, to inspire YOU to give hand sewing a try! And hand sewing provides a wonderfully creative outlet for relaxation, and who doesn't enjoy some relaxation in their day?
* * * * * * * * *
This course provides:
8 lessons with overviews about the basic tools of the trade for hand sewing
A list of the basic supplies you will need to learn the simple hand sewing techniques provided
An introduction to sewing machines with terminology
3 detailed lessons about 3 sewing machines and the variations of their inner workings
There is approximately 40 minutes of video instruction in this course.
Your Creative Guide: Monica The Creative Beast
My experience with sewing begins in childhood and includes studies in Fashion Design and Pattern Drafting, as well as work in Los Angeles creating costumes for stage, film and amusement parks though costume shops LA Opera, Jim Henson's Creature Shop and Paul McAvene Designs.
Sewing is a wonderful skill and a fun way to express yourself creatively, whether making clothing, costumes or home decor that suit your taste and style!
My hope is that this course will help demystify the world of Sewing, and encourage YOU to try it for yourself. I start with hand sewing because hand sewing is a skill that has been passed down for centuries and is still relevant today.
Whether used for garment repair, embroidery, crafts and even book binding, one of my favorite creative pastimes, hand sewing is also helpful for relaxation and meditation. The current Slow Stitch Movement is a way that many use hand sewing as a form of calming meditation, which is discussed in this course.
I also hope to inspire YOU to tap into your Creative Instincts through the wonderful world of Sewing - I look forward to seeing you in the classroom!
* * * * * * * * *

Hello and welcome to "The Primers" Ecourse series!

"The Primers" are a series of quick, bite size lessons about various forms of Creativity. They are intended to provide you with a general overview of each craft and the tools used for them.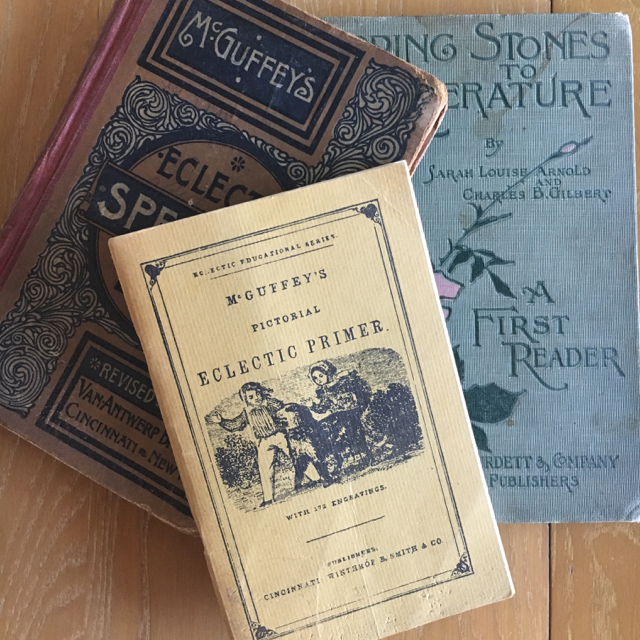 Vintage Primer Schoolbooks from the olden days...

* * * * * * * * *

This is an introductory course for beginners who are thinking about learning to sew. I hope it inspires you to try your hand at hand sewing!
Intermediate and advanced practitioners are always welcome to join the classroom.
Your Instructor

I'm a professional seamstress, artist, and creativity coach. I'm on a mission to help womxn unleash and celebrate their innate creative instincts.
This course contains tips and tricks I've learned through my 20-year career as a professional costume constructor in Hollywood and sample maker in the garment industry.
I've taught sewing, book arts and other creative workshops for over 8 years. There's no better feeling than when I hear students say, "oh this was easier than I thought" and "I can't believe I made it."
Everyone is born creative, but society tends to crush this in childhood. I teach Sew Like a Pro and other e-courses so you can 'reconnect to your Creative Instincts' and reclaim the creative beast within YOU.

Course Curriculum
Let's Get Started!
Available in days
days after you enroll
Introduction to this Course
Available in days
days after you enroll
The Tools of the Trade & Beginner Stitches
Available in days
days after you enroll
Frequently Asked Questions
When does the course start and finish?
The course starts now and never ends! It is a completely self-paced online course - you decide when you start and when you finish.
How long do I have access to the course?
How does lifetime access sound? After enrolling, you have unlimited access to this course for as long as you like - across any and all devices you own. You'll also get access to any course updates or bonuses I add in future versions.
What if I am unhappy with the course?
We would never want you to be unhappy! If you are unsatisfied with your purchase, contact us in the first 30 days and we will give you a full refund.
What if I've never sewn before?
No problem. This course is intended for beginners or anyone interested in a guide to sewing and learning tricks of the trade to make your projects look more professional.
What if I'm not very artistic?
I break down sewing so that it's easy-to-learn and show you step-by-step using video demonstrations. No special talents required, just a willingness to learn. If you are artistic, there are plenty of opportunities to get creative, but anyone can take this course and with practice, end up with professional-looking sewing.
What's included in the course?
A handy supply list you need to learn the hand sewing stitches in this course 8 lessons that provide details of the various tools of the trade An introduction to sewing machines with basic terminology of parts and construction 3 detailed photo overviews of three different brands of home sewing machines and their inner workings Approximately 40 minutes of video demonstration videos
How much time do I need to set aside to complete the course?
There is approximately 2 hours of video to learn from, not including the projects included for your sewing practice. Regular practice of all the stitches will hone your skills to a professional level over time, with patience, determination and persistence, until the stitching becomes familiar to you.
Who is this course for?
This course is designed for beginners with an interest in learning to sew by hand before moving onto machine sewing, though there are lessons that illustrate the variations in sewing machine brands and construction, to give beginners an overview before they decide to move into machine sewing.
Does this course cover all aspects of professional sewing?
Professional sewing has a wide range of both hand and machine sewing techniques which is beyond the scope of this particular course, however this course is geared toward helping beginner sewers start with a strong foundation that will help them learn the advanced techniques that are the realm of the professional seamstress.
I'm looking at a few sewing courses right now -- what makes yours different?
This course is created by a professional seamstress with decades of experience in garment and costume construction in Hollywood. You'll receive many insights gleaned from my years of working for stage and screen, as well as my years of home decor sewing.
I'm already pretty good at sewing. Is this course just for beginners?
While this course is built for beginners with an interest in learning to sew by hand, before moving onto machine sewing, the lessons on tools of the trade provide detailed information an intermediate sewer would find helpful, with the perspective from a professional seamstress. There are also lessons that illustrate the variations in sewing machine brands and construction, with terminology, that intermediate sewers might also learn from. The course contains creative projects that could be done by the intermediate sewer, using a sewing machine for faster results. There are many tips and tricks, shared from my many years of experience, that you may find immensely helpful in your own sewing practice.
Thank you so much for purchasing my ecourse, it is greatly appreciated! Be sure to thank YOURSELF for committing to your Creative Instincts by being here as you invest in your creativity and learn to stay connected to your Creative Instincts!